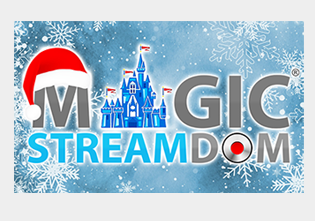 Magic Streamdom
December 2
Tis' the season! Join us for our 3rd annual Magic Streamdom Holiday Special on December 2nd, 2021 at Give Kids The World Village from 5:30 – 10:00! You will enjoy cocktail hour, a sit-down dinner, live entertainment, characters, "Merry & Bright" Holiday Raffle and and to top it all off, a VIP tour of the village and the experience of Night Of A Million Lights. It's an evening you won't want to miss!
Tickets to this event are 100% free. Includes entertainment, dinner and the VIP tour of Night of A Million Lights! Space is limited and will fill up quickly! Please let us know if you are interested in being a sponsor for this event or buying a full table as these fill up fast. Thank you and we look forward to having you there with us!
100% of all proceeds raised will go directly to Give Kids The World Village.