Andy Grammer Brings Joy to Kids at Give Kids The World Village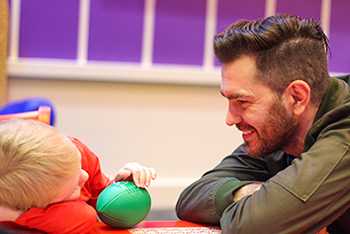 Dec 17th, 2018 [Kissimmee, FL]
International superstar Andy Grammer spends a morning bringing smiles to critically ill children at Give Kids The World Village (GKTW) in Kissimmee, Fla.
On Friday, December 14, 2018, Grammer visited guests staying at GKTW for a private meet-and-greet experience.
"I've worked with many charities, but I've never seen any quite like this. I was shocked to see a fully operating resort for families, before they even get to the theme parks," said Grammer. "And these children are so resilient. I am really humbled by the joy I've seen in these strong kids."
During his visit to GKTW, Grammer met with about 50 families during a private meet and greet experience, exclusive to Village guests. "We are so grateful to Andy and the rest of the Cure Bowl team for taking the time to meet with our families," said Jessica Mueller, content strategist at GKTW. "The meet and greet experience was an intimate opportunity for families to meet one of their favorite celebrities, take photos, sign autographs, and in some cases even get right down on the floor and play together. For some families, this was the highlight of their wish trip."
Grammer was visiting Central Florida during a trip to perform at the Cure Bowl. His visit to Give Kids The World was a part of this weekend-long experience where he was joined by IndyCar racer Jack Harvey and representatives from the 2019 Cure Bowl.
---
About Give Kids the World Village
Give Kids The World Village is an 89-acre, nonprofit resort built exclusively to serve critically-ill children and their families. Children visiting Central Florida on their "wish trips," stay with their families at Give Kids The World's storybook Village for week-long, dream vacations. Give Kids The World provides meals, transportation, nightly entertainment, and complimentary passes to Orlando's world-famous theme parks and other attractions. There is never any charge to visiting families, and no child is ever turned away. Since 1986, Give Kids The World Village has served more than 188,000 children and families from all 50 states and 77 countries. GKTW is four-star rated by Charity Navigator, with more than 90 cents of every dollar it spends going to program services.
For more information, contact Give Kids The World Village Public Relations manager, Cindy Elliott.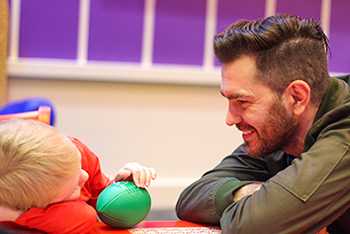 Media Contact
Cindy Elliott
Public Relations
562.896.1177
CindyE@gktw.org
---

Download PDF