VOLUNTEER
Volunteers are the heart and soul of the Village. Our passionate volunteers contribute their time and talent helping to create priceless memories for critically ill children and their families during magical weeklong wish vacations in our whimsical, storybook Village.
Serving in a variety of unique and diverse roles, volunteers enjoy a truly rewarding experience helping to deliver happiness and inspire hope for our precious families. From serving "Ice Cream For Breakfast" in Henri's Starlite Scoops and operating our accessible rides, to assisting with wish family check-in, every task undertaken by our wonderful volunteers is impactful and meaningful – bringing us one step closer to transforming lives.
Download descriptions of each volunteer role at the Village.
Whether you are an individual wanting a memorable way to give back during your free time, part of a local service group, an alumni family interested in paying it forward, or an employer seeking a purposeful team-building opportunity for your co-workers, we would love to have you join our community of caring and compassionate volunteers.
Thank you again for your interest in volunteering at Give Kids The World Village. To apply, click below.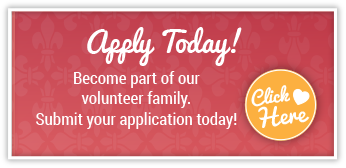 Volunteer Schedule Login
Click the button below to log in to your volunteer account, check your schedule and view current openings.