ALEX AND ANI Releases New Holiday Bracelet Benefiting Give Kids The World Village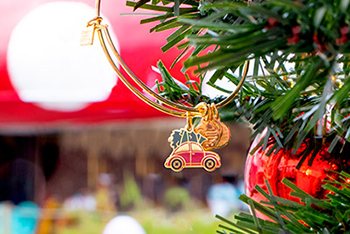 Oct 22nd, 2018 [Kissimmee, FL]
Global jewelry brand ALEX AND ANI is releasing a new Christmasthemed bangle to benefit Give Kids The World Village, the Central Florida nonprofit that provides free dream vacations to critically ill children and their families.
The Christmas Car bangle will be sold until January 31, 2019 and can be purchased online or at ALEX AND ANI retailers around the country. The company, a dedicated supporter of Give Kids The World, will donate 20 percent of each sale to the nonprofit resort.
ALEX AND ANI has raised over $546,000 for Give Kids The World since the partnership began in 2014. It has helped fund more than 200 wish trips for critically ill children and their families. The free, weeklong trips include accommodations, meals, transportation, theme park tickets and more.
"We are so grateful to ALEX AND ANI for everything it has done to help the children and families we serve," said Give Kids The World President and CEO Pamela Landwirth. "Its CHARITY BY DESIGN bangles are both beautiful and meaningful. 'The Christmas Car' follows in this tradition and is sure to become a holiday favorite."
Available in a sparkling gold finish, The Christmas Car features a red Volkswagen Beetle carrying an evergreen tree on its roof. It is part of ALEX AND ANI's holiday collection and is the fifth bangle created to benefit Give Kids The World.
"The road to the holidays is always paved with excitement (and evergreen needles,)" writes ALEX & ANI describing its Christmas Car piece. "Overflowing with packages, hot cocoa, cheerful songs, and warm feelings, it's a caravan traveling full speed to Christmas bliss. Buckle up and enjoy the ride."
The Christmas Car is a great addition to your jewelry collection, makes a great gift for friends and loved ones, and provides a way to give back to a charitable cause.
To purchase this holiday piece, visit the ALEX AND ANI WEBSITE.
---
About Give Kids the World Village
Give Kids The World Village is an 89-acre, nonprofit resort built exclusively to serve critically-ill children and their families. Children visiting Central Florida on their "wish trips," stay with their families at Give Kids The World's storybook Village for week-long, dream vacations. Give Kids The World provides meals, transportation, nightly entertainment, and complimentary passes to Orlando's world-famous theme parks and other attractions. There is never any charge to visiting families, and no child is ever turned away. Since 1986, Give Kids The World Village has served more than 188,000 children and families from all 50 states and 77 countries. GKTW is four-star rated by Charity Navigator, with more than 90 cents of every dollar it spends going to program services.
For more information, contact Give Kids The World Village Public Relations manager, Cindy Elliott.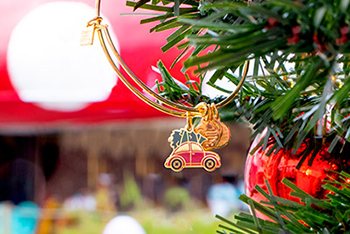 Media Contact
Cindy Elliott
Public Relations
562.896.1177
CindyE@gktw.org
---

Download PDF